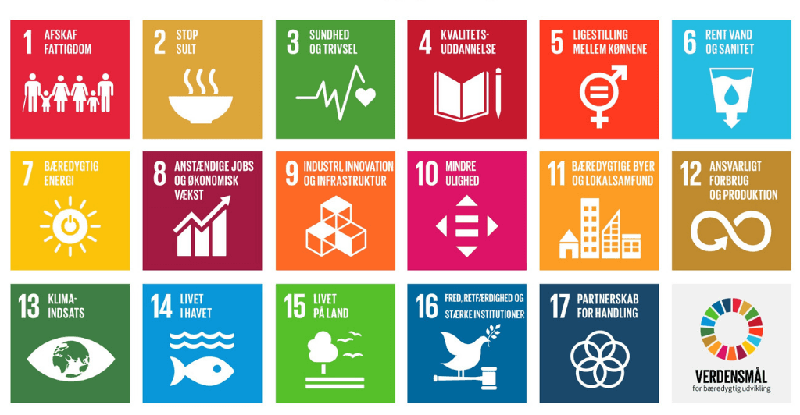 We make world goals everyday goals
Not only in private homes, we have a responsibility to do something for the world goals

We believe that both large and small companies must do something now, if we are not to destroy the world in the future.
It can be really difficult to get started and both keep track of the processes and document what you do.
Do you want a tool that can help you with the world goals? Then contact us for further information.
3.4. Inden 2030 skal den for tidlige dødelighed af ikke-smitsomme sygdomme reduceres med en tredjedel

Goal

Inden 2030, reducere for tidlig dødelighed af ikke-smitsomme sygdomme med en tredjedel gennem forebyggelse og behandling og fremme mental sundhed og velvære

Company goals

In VK Data ApS, all our positions are based on office work, which means a lot of sedentary work.
This means that without movement and a healthy lifestyle, we have a high risk of acquiring non-communicable diseases in the long term. Our most important resource is the employees, which is why we see it as our duty to provide the best working conditions. 

It is important that they can thrive and grow in their jobs, because this is where we get the loyal and innovative employees.
To ensure the best well-being, all employees have the most optimal equipment here in the office and in their home office.
We aim to be a flexible workplace that wants to maintain health and well-being.
In order to have a healthier workplace, we have drawn up a health and well-being policy, which the employees are expected to follow.
Our aim is to reduce the risk of diabetes, cardiovascular diseases, arthritis and other work-related diseases.

Company progress

So what have we done to reach the goal:
We have introduced daily Walk and Talk.
We have purchased a fitness watch to help with motivation to move.
We have set up a staff fund to take care of social events and other festive events.
We have drawn up a health policy which we expect the employee to follow.
There are raise/lower tables in the office - Office chair that suits the individual.
Screens placed at the optimal heights for the employee.
Possibility of ergonomic keyboard and mouse for those who wish.
Glasses for those who need it.
An agreement has been made with the acupuncturist to come once a month.



3.5. Styrke forebyggelse og behandling af stofmisbrug

Goal

Styrke forebyggelsen og behandlingen af stofmisbrug, herunder narkotiske stoffer og skadelig brug af alkohol

Company goals

As part of our aim to be a company with a focus on health and well-being, we have created a topic in our staff handbook that deals with our policy on drugs and alcohol in the workplace. Here, we neither want the employees to consume drugs and alcohol at work, nor that they come to work under the influence.
To ensure this, we have made sure that there is information material about the possibility of help in case of abuse problems.


Company progress

What we have done to reach the goal:
We have drawn up a policy prohibiting the consumption of drugs and alcohol in the workplace.
The employee is informed about the policy and signs that he has read our personnel policy upon employment.
This is online in the GDPR portal and all employees are set up as users.
When there are changes in the policy, all employees are informed to read the new measures and a receipt for reading must be given.



3.6. Inden 2020 skal antallet af globale dødsfald og kvæstede som følge af trafikulykker halveres

Goal

By 2030, halve the number of global deaths and injuries from road traffic accidents

Company goals

In order to meet the goal of halving the number of deaths and injuries in traffic accidents, we want to share our views on reckless driving with our employees.

At the same time, a policy is drawn up in the area, which is written in the staff handbook.


Company progress

What we have done to achieve our goals:
We have talked internally in the company about what the risk is if you drive crazy.
We have entered the company's policy in this area in the Personnel Handbook.



3.8. Opnå universel sundhedsdækning

Goal

Opnå universel sundhedsdækning, herunder beskyttelse af finansiel risiko, adgang til væsentlige sundhedsydelser af høj kvalitet og adgang til sikre, effektive, essentielle lægemidler og vacciner af høj kvalitet til overkommelige priser for alle

Company goals

In the event of illness among our workers, we have set a goal of being able to provide them with the treatment they need. 

We have ensured that employees have health insurance together with their pension scheme. 

Through health insurance, employees can receive free treatment for, among other things, physiotherapy, chiropractor, psychologist, or other offers. 

This should help ensure that our employees do not have to think about finances when they need treatment. 

This should not only promote universal health coverage, but also contribute to security and well-being among employees.


Company progress

So what have we done to improve the possibilities of this?
We have found a solution that we believe is the best for our employees.
Therefore, an agreement has been made with PFA Sundhedssikring, which will help make health services available free of charge.
All our employees are vaccinated against Corona.



4.3. Inden 2030 skal alle kvinder og mænd sikres lige adgang til teknisk, erhvervs- og videregående uddannelse, herunder universiteter, af høj kvalitet og til en overkommelig pris.

Goal

Inden 2030, sikre lige adgang for alle kvinder og mænd til teknisk, erhvervs- og videregående uddannelse til en overkommelig pris og af høj kvalitet, herunder universiteter

Company goals

VK DATA works with this goal through internal and external training of all our employees. We want to have the most qualified workforce and understand the importance of training and further training, so that our employees can bring new knowledge to a current or a possible new position within the company. 

All employees at VK DATA have equal rights to these courses, regardless of gender.


Company progress

How we achieved this:
When recruiting, we look at the person's qualifications rather than ethnicity, faith, age, gender, physical/mental challenges and political beliefs.
We currently have 7 students in Denmark and 2 students in Sri Lanka.
We are in the process of hiring 2 more students.
In November 2021, we received the CSR label, by showing social responsibility when hiring.
We encourage both men and women to apply for our positions.

We currently offer training in:
Trade/Sales
Administration
Computer engineering with a specialty in infrastructure
Computer engineering with specialization in programming



5.5. Kvinder skal sikres fuld og effektiv deltagelse og lige muligheder for lederskab på alle niveauer i beslutningsprocesser inden for politik, økonomi og det offentlige liv.

Goal

Sikre kvinders fulde og effektive deltagelse og lige muligheder for lederskab på alle niveauer af beslutningstagning i det politiske, økonomiske og offentlige liv

Company goals

At VK DATA, we do not hire on the basis of gender, but rather on the basis of competences. 

Unfortunately, our field is very male-dominated, which results in us not having as many women applying to us. 

However, we are developing rapidly and have received several positions for which we have had female applicants.


Company progress

How far are we in this area:
We currently have 15 employees in Denmark and 15 in Sri Lanka. We are about to set up a department in Nibe, where there will be 4 new employees.
We have 2 women/13 men at the office in Bønderby, 2 women/13 men in Sri Lanka.
We have a female student in Sri Lanka and a female student at the office in Bønderby.
We have a woman employed in management.



9.1. Udvikle pålidelig, bæredygtig og robust kvalitets infrastruktur

Goal

Der skal udvikles pålidelig, bæredygtig og robust infrastruktur af høj kvalitet, herunder regionale og grænseoverskridende infrastruktur, for at støtte den økonomiske udvikling og menneskelig trivsel, med fokus på lige adgang for alle til en overkommelig pris.

Company goals

Global Goals 9.1 and 9.b are an integral part of VK DATA's business model since we develop sustainable solutions, which we also offer to our customers.
If our customers have specific wishes, we go to great lengths to accommodate this. 

At the same time, we want to further develop our UN World Goals app.


Our strategy is:

95% Recycling of IT equipment, as long as it offsets the energy consumption.

100% Recycling of office furniture, without putting our employees' health at risk.

95% Green car park

Company progress

How far have we come with the goal:
We support by paying for green wind turbine energy, this applies both to hosting and to internal power consumption. We do not use air conditioning to cool servers in the company and it is
helping to minimize power consumption.
When we have to hold meetings with customers, we endeavor to use our online remote support solution - ISL Online or Googlemeet, we do this to save on CO2 emissions.
We have invested in an electric car to reduce CO2 emissions and thereby protect the environment. 2020



9.b. Støtte indenlandsk teknologiudvikling, forskning og innovation i udviklingslande

Goal

National teknologiudvikling, forskning og innovation i udviklingslande skal støttes, herunder ved at sikre et gunstigt politisk miljø for bl.a. industriel diversificering og højere merværdi for varer.

Company goals

We want to contribute with an innovative ERP system Odoo. Our goal is to reach as many customers as possible, in order to get the system integrated in Denmark.
We know that it is a revolutionary system which is based on open source and therefore not as rigid as many other ERP systems.
We want to help develop the product so that it adapts to the needs of the different companies, as there is a big difference in the companies' infrastructure.
Being able to help develop Odoo to become one of the Nordics' best tools for company management.
We have a sister company in Sri Lanka. Here we have a goal to get more development going in the country.
Our goal is that they should have the same working conditions as in Denmark, also when it comes to IT equipment and knowledge about the ERP system Odoo.
We want them to acquire the quality awareness we have in Denmark and to gain some qualities that they do not already have.
They must help further develop Odoo and get the product implemented in the country.

Company progress

What progress have we made to achieve the goal.
We have developed over 1000 modules and an app for Odoo
We have a hand in the development of Oddo
We have contributed to them in Sri Lanka being able to run a company NISUS Solution, with great qualities that are in great demand.
We make sure that those in NISUS get the latest developments in the field by participating in online courses about Odoo.



12.8. Fremme universel forståelse af bæredygtige livsstile

Goal

Inden 2030 skal det sikres, at mennesker alle steder, har den relevante information og viden om bæredygtig udvikling og livsstil i harmoni med naturen.

Company goals

The company's goal is to share knowledge about the world goals. We aim to do this by involving as many employees as possible.
In everyday life, we will inform about sustainability by making signs for waste, save energy, etc.
We wanted the employees to be involved in our initiatives in the company, because without the employees' approach to the goals, you will not get far.

Company progress

How far are we in reaching the goal:
So what have we done to involve our employees?
During the development of the World Goals app, we have involved several of our programmers, so that they have gained a broad knowledge of the subject.
We talk almost daily about sustainability in the office, in several respects.
When the employees come up with proposals for sustainable measures, they are turned internally in the company.
All suggestions are welcome.



17.6. Videndeling og samarbejde for adgang til videnskab, teknologi og innovation

Goal

Der skal forbedres Nord-Syd-, Syd-Syd- og det regionale triangulære samarbejde samt det internationale samarbejde omkring, og adgang til, videnskab, teknologi og innovation, og øges vidensdeling igennem gensidige aftalte vilkår, herunder forbedret koordinering af eksisterende mekanismer, især på FN-niveau, og gennem en global teknologi-faciliteringsmekanisme.

Company goals

We want to share our tool for implementing world goals with existing Odoo customers as well as new customers.
We want to influence them to do something effective for the world goals. We can help with this,
by offering support on the app and by offering sparring sessions.
During our Global Goals course with Haderslev Business Council, we have found out what
that is what we want for ourselves and for our customers.

We want to share knowledge of what we have done for the world goals and get more companies to take responsibility in the form of sparring/collaboration.

Company progress

What measures have we taken to achieve our goals:
In order to publish our World Goal app "Tool", we have initially been given speaking time at the final sparring session in connection with the World Goal process.
We have bought a domain called SDGS where we can market the product.
We have been looking for a marketing employee to help us market the UN World Goals app to companies so that they can gain knowledge about our product.



17.17. Tilskynd effektive partnerskaber

Goal

Der skal tilskyndes og fremmes effektive offentlige partnerskaber, offentligt-private partnerskaber og civilsamfundspartnerskaber, som bygger på erfaringer og ressource strategier fra partnerskaber.

Company goals

We want our partners/suppliers to do something for the World Goals. We can help make demands.
We have a goal of having as large a network as possible, in order to be able to track down the best partners just for us.
We want to get on the Danish map as one of Denmark's best suppliers of the ERP system Odoo.

Company progress

How far are we with the goal:
We have become members of several different associations which we believe suit our wishes and needs
Member of Tønder Business Council - for sustainability
Member of Erhverv Norddanmark - for business expansion
Member of the Round Table - Network
Member of the Shooting Brothers in Aalborg - Network
Member of Haderslev Business Council - help with integration/certification of World Goals