Get control of your sales process
with Odoo
Odoo helps you stay on track
on new leads, customers and suppliers.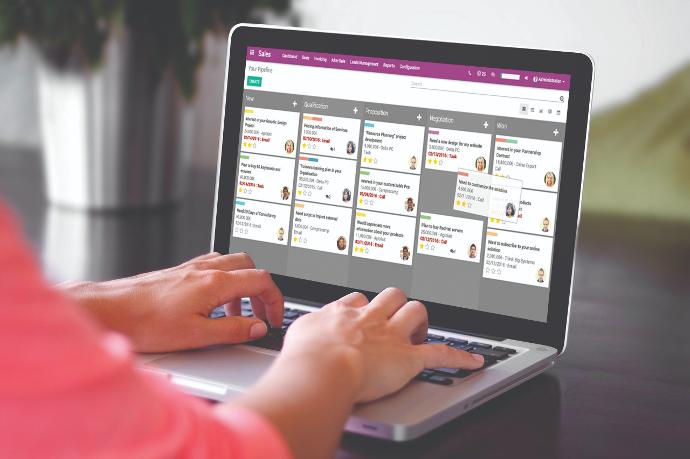 CRM System
You get an integrated CRM system where you can optimize your customer relations and thus optimize sales. Setting up the CRM is simple, user-friendly and can be adapted exactly to your and your company's needs. Odoo's CRM is built with a smart drag & drop function that makes it easy and quick to use.

The CRM module is integrated with both the offer and order module, so that you easily get an overview of new, old and potential customers and sales opportunities.
---
ONLINE INVOICING
You can also send your invoices via EDI invoicing.
Odoo is based on a unified database, with which you have a coherent flow, from the creation of leads in the CRM part, the generation of offers and order confirmations, to the final invoicing to the customer, which takes place via e-mail or EAN.​


Insert template
Send offer
Close the deal
Get the payment in house


Electronic signature



Odoo signature is a quick and easy way to send, sign and approve documents.
The feature allows you to build documents that contain blocks to be filled in by the customer or other type of recipient. As soon as the signature request has been sent to your recipient, you can follow the status of the sent documents. That way, you can keep track of whether your recipient has signed or still needs to sign documents.

Build your templates
Build templates to suit your subscription types. As many templates as you need can be made.

Send invoice automatically
Invoicing can be done automatically or manually, depending on the need for control.

O​ptimiz​e sales
With subscriptions, you can ensure a stable income and make outreach sales at the same time.

Support sales with gift cards, discount cards or customer cards​
You can get printed plastic cards for all apartments at VK DATA. We print specially designed cards or just standard cards.
A gift, benefits or customer card can help support your sales and your business. It can also increase the loyalty of your customers.
---
SE PLASTKORT PRISER OG MULIGHEDER


Get more sales with Odoo!

Fill in the form below if you want to hear more about what opportunities there are for sales with Odoo.
We will contact you for a non-binding initial interview.